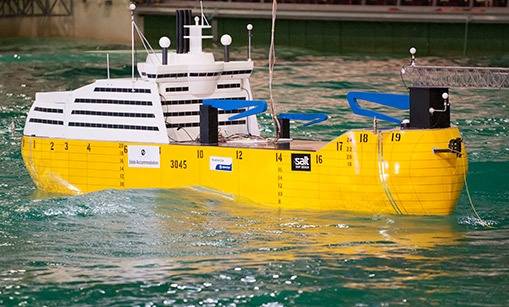 The offshore hotel vessel is kept in place thanks to "Built In Waves"
This accommodation vessel makes it easier for workers in the offshore industry to find their seafaring, thanks to opposing waves created in specially designed tanks installed in the hull. She is designed by the Stord-based maritime design company SALT and is being built under contract to the shipowner Østensjø.
"This concept offers an alternative to the semi-submersible platforms currently in use. The goal is to create a more mobile hotel unit that can be rented by oil companies that operate in several parts of the world. Our job has been to give the ship characteristics that make it more comfortable to live at sea, "says Sverre Anders Alterskjær of MARINTEK, the Norwegian marine technology research institute.
Integrated waves
The integrated system designed to reduce the vessel's roll was developed by Hoppe Marine and extensively tested by Alterskjær and his research colleagues at MARINTEK, specialists in the study of new vessel and hull concepts using the tanks of unique testing of their laboratories.
Roll damping is achieved using tanks integrated into the bottom and sides of the hull – called "U-tanks" because of their shape. "The tanks are filled with water which starts to move in a phase opposite to the wave forces acting on the hull," explains Alterskjær.
The tanks are fitted with air valves at the top which partially control the movement of water in the tanks.
The valve opening can be adjusted according to the roll period of the vessel
The result is reduced ride and improved comfort for those on board.
The researchers studied the optimal opening of the valves at the top of the U-shaped tanks and the correct water level in relation to the ship's design, as well as the measurement of the movement of the ship during voyages and in hotel mode.
MARINTEK is a company within SINTEF, the largest independent research organization in Scandinavia, and develops and verifies technological solutions, business and operational concepts for the shipping, marine equipment, ocean energy and marine industries. oil. MARINTEK's headquarters and laboratories are located in Trondheim, Norway, with subsidiaries in Houston, Texas and Rio de Janeiro, Brazil.