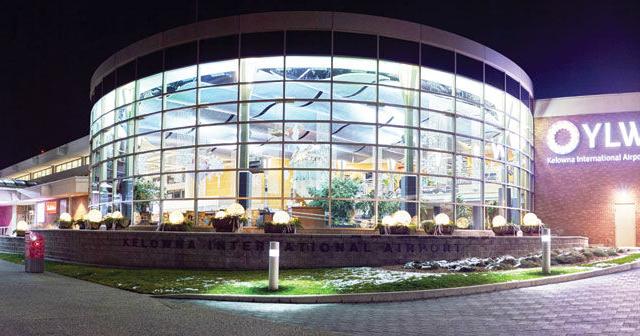 The new YLW hotel will be right next to the terminal | New
Luxury hotel brand Sutton Place Hotels has announced development plans for a hotel next to the Kelowna airport.
The new Sutton Place Hotel Kelowna will be located right next to the terminal, the City of Kelowna announced in a press release Thursday afternoon.
"Sutton Place Hotels are known for delivering an exceptional guest experience," said Kelowna Airport Manager Sam Samaddar. "Their reputation will allow the Sutton Place Hotel Kelowna at YLW to promote the Okanagan as a destination of choice."
Design and development approval work will begin this year, with construction beginning as early as late 2023. The hotel is expected to open in 2026.
The company was chosen after the airport was advertised last year for expressions of interest from hoteliers interested in building a new property at YLW. The airport provides the necessary land through a long-term lease.
No other details of the funding arrangement were provided in the city's press release.
Several years ago, the city revised the airport's capital development plan to allocate $32 million to pay for parking and road changes that would be built along with a hotel on the grounds. of the airport.
"A hotel right next to the airport is increasingly viable due to the phenomenal growth in passenger traffic," Samaddar said in a July 2019 interview.
"Thanks to a partnership with a hotel supplier, it also makes economic sense to build a parking lot at the same time," he said.
Eight of the nine Canadian airports that were busier than Kelowna in 2019 already had hotels near the terminal. The exception was Billy Bishop Airport, on an island off downtown Toronto.
Although passenger travel has been decimated by the COVID-19 pandemic, the recovery is well underway and projections call for 2022 numbers to be around 85% of the record high of 2.2 million set in 2019.
Possible sites for a hotel and parking lot are the existing long-term lot south of the terminal, or directly across from the main building on what is now the short-term parking lot, Samaddar said in the 2019 interview.
If YLW were to partner with a hotel supplier, it would likely not sell the land needed to build the hotel. Instead, as is common elsewhere, the airport would create a concession relationship, with YLW getting a share of the hotel business, Samaddar said.
"We wouldn't go straight into the hotel business," he said at the time.