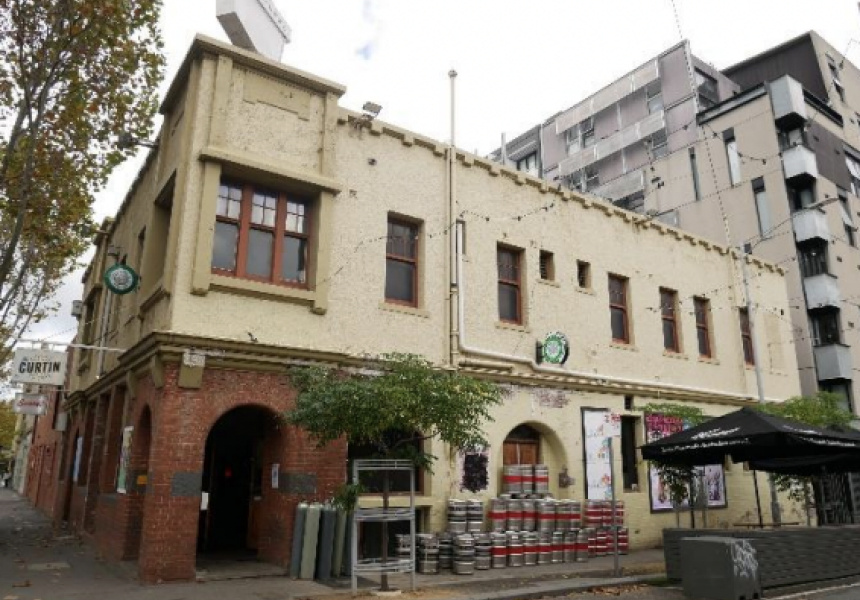 The John Curtin Hotel may soon be heritage listed
Melbourne's historic watering hole and live music incubator, The John Curtin Hotel was recommended by Heritage Victoria for inclusion on the Victorian Heritage Register following a joint nomination by the Victorian Trades Hall Council (VTHC) and the National Trust of Australia (Victoria).
After a failed union effort to buy the pub in April – and the venue bought by an offshore developer – the VTHC teamed up with the National Trust to push through the bid. Heritage status would not only protect the building itself, but also secure the venue's place in Victorian history as the unofficial seat of the labor movement and an enduring center of live music.
'More than bricks and mortar…the John Curtin was an integral part of the Victorian trade union and labor movements – it is a Melbourne treasure that deserves the strongest possible protection,' said the Deputy Mayor of the City of Melbourne , Nicholas Reece, in a statement.
Listing would offer protection to the threatened site by "conferring[ing] owner's legal obligations to protect and maintain the 160-year-old property in accordance with its heritage values," said VTHC Secretary Luke Hilakari. Large format In Monday. He added: 'If you were to do any building work – even put a sign on the wall – you would need approval from Heritage Victoria…if [proposed changes] interfere with what was considered to make the place special, it just won't happen."
Hilakari said even being recommended for the Heritage Register "is an important collective victory and a vital step in preventing valuable historic buildings from being razed by developers who want to spin a dollar off the community's back."
Hilakari has been a strong supporter of protecting the site and a key organizer in efforts to save it from development. When the property was sold earlier this year, Hilakari announced that Building Industry Group (BIG) issued a green ban on the property in an effort to prevent its destruction. Green bans are a type of strike that unionized workers can undertake to protect sites from developments deemed culturally, socially, or historically vandalic.
The moment Hilakari said Large format the sale of the property to an offshore developer despite a higher offer of more than $6 million from RMIT and the Electrical Trades Union was "a cash grab, at the expense of the community"
But the community was heard. Felicity Watson, Advocacy Manager with the National Trust of Australia (Victoria), said Heritage Victoria went beyond simply assessing architectural significance, also taking into account social media analysis and "hundreds of petition comments".
The recommendation will be announced by the Heritage Council for 60 days (starting Friday, July 22) and anyone can submit a submission to support it. Hilakari hopes anyone with a significant connection to the place will tune in in the coming weeks to "say as simply and succinctly as possible what [the venue] means to them: if you like going there for the music, you should write that, if your mother had meetings there with the nurses' union, tell the story, if you stop with the comrades after a rally, put that – anything that is culturally significant to you."
You can download a submission form and share your love of the Curtin with Heritage Victoria until Tuesday September 20