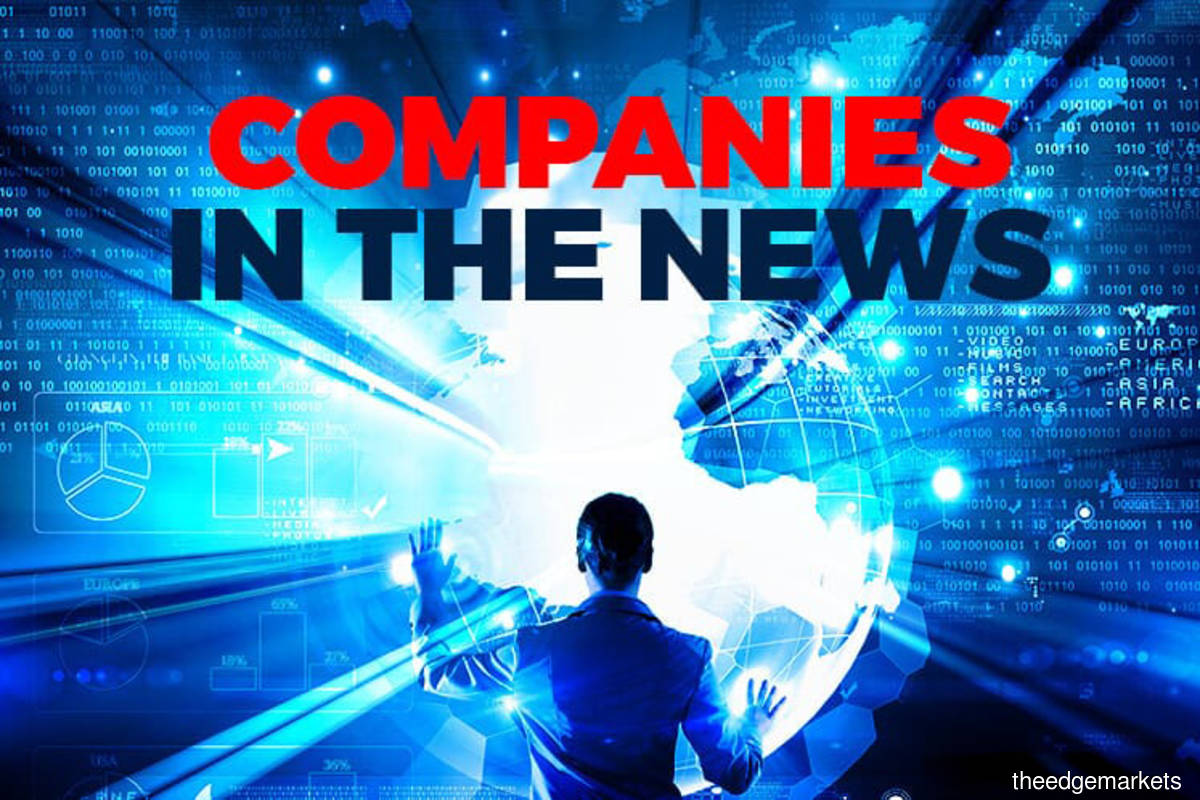 Sime Darby, CTOS, Unisem, Advancecon, Padini, Berjaya Food, OM Holdings, Favelle, Yinson, MHC Plantations, Deleum, Ancom, Globetronics, Bursa, Ajiya, Mestron and SCIB
KUALA LUMPUR (October 26): Based on Tuesday's business announcements and news, featured businesses on Wednesday October 27 may include: Sime Darby Bhd, CTOS Digital Bhd, Unisem (M) Bhd, Advancecon Holdings Bhd , Padini Holdings Bhd, Berjaya Food Bhd, OM Holdings Ltd, Favelle Favco Bhd, Yinson Holdings Bhd, MHC Plantations Bhd, Deleum Bhd, Ancom Bhd, Globetronics Technology Bhd, Bursa Bhd, Ajiya Bhd, Mestron Holdings Bhd and Sarhawd Consolidated Industries Bhd .
Sime Darby Bhd invests over RM 120 million for the new Auto Bavaria Balakong 4S center. The conglomerate said its automotive division Sime Darby Motors, through its subsidiary Sime Darby Auto Bavaria Sdn Bhd (Auto Bavaria), has opened its new BMW 4S dealership in Balakong.
CTOS Digital Bhd, which is among credit reporting agencies suspended from access to the Central Credit Reference Information System (CCRIS) due to potential cyber threats, said its assessment did not indicate any breaches of its credit bureau assets. data. In a letter delivered to its clients on Monday, October 25, seen by The edge, CTOS said it completed and submitted a compromise assessment to Bank Negara Malaysia on October 18.
Unisem (M) BhdNet profit for the third quarter ended September 30, 2021 fell 20.64% to RM 40.27 million from RM 50.74 million a year ago, mainly due to lower revenues from operations of the group in Ipoh, which was affected by the closure of the plant and workforce limitation imposed during the quarter under review. Quarterly revenue increased 2.42% to RM366.36 million from RM 357.68 million last year. The group also declared a dividend of two sen per share, which will be paid on November 26.
Advancecon Holdings Bhd received the consent of its shareholders to acquire a majority stake of 51% in the quarry operator Spring Energy Resources Bhd for 30.4 million ringgit. The earthworks and civil engineering service provider said the approval was given at an extraordinary general meeting. He said the acquisition of the stake in Spring Energy would be satisfied via RM 15.2 million in cash and RM 15.2 million through the issuance of 33 million new Advancecon shares to seller Fook Hua Holdings Sdn Bhd at an issue price of 46 sen per share. . He added that the new shares to be issued to Fook Hua represent a 7.5% stake in Advancecon.
Padini Holdings Bhd President Chia Swee Yuen said he was cautiously optimistic to successfully navigate the current crisis caused by Covid-19 and deliver long-term value to shareholders as the pandemic continues to pose unprecedented challenges leading to disruption business, economic volatility, employee and public safety. , besides financial problems, despite massive stimulus and vaccination efforts by governments around the world. Chia said in Padini's latest annual report that the clothing retailer's domestic operations continue to be the main driver of revenue and profits.
Berjaya Food Bhd 'The wholly-owned Berjaya Starbucks Coffee Co Sdn Bhd (BStarbucks), which operates Starbucks coffee outlets in Malaysia, is expected to have a near-total presence across the country with a new store offered in Perlis by the end of 2021 , in accordance with Berjaya Food's plan to open approximately 40 new stores across the country during the current fiscal year ending June 30, 2022 (FY22). According to Berjaya Food's latest annual report, as of June 30, 2021, BStarbucks had 327 stores in Malaysia, excluding Perlis state.
OM Holdings LtdThe Sarawak ferroalloy smelter complex recorded higher production volumes in the third quarter (3T) ended September 30, 2021, compared to the 2T ended June 30, 2021. The Australian mining company said its industrial park plant from Samalaju to Bintulu produced 33,453 tonnes of ferrosilicon, 59,307 tonnes of manganese alloys and 34,542 tonnes of manganese sinter ore for the quarter under review.
Favelle Favco Bhd said it has secured purchase orders for tower cranes, offshore cranes, supervisory control and data acquisition system with a combined value of RM37.1 million. The construction crane maker said in a stock exchange filing that the purchase orders were obtained by its subsidiaries Favelle Favco Cranes Pte Ltd, Favelle Favco Cranes (M) Sdn Bhd, Favelle Favco Cranes Pte Ltd and Exact Automation Sdn Bhd. The clients are GA Caelli Holdings. Trust, Saipem SPA, Thien Nam Offshore Services JSC and Rockwell Automation Southeast Asia Pte Ltd.
Yinson Holdings Bhd – through its 100% subsidiary Yinson Green Technologies (M) Sdn Bhd – signed a condition sheet with GreenTech Malaysia Alliances Sdn Bhd, a 100% subsidiary of the Malaysian Green Technology and Climate Change Corporation, to accelerate the development of the Electric Vehicle Charging Infrastructure (EV) in Malaysia. According to the conditions sheet, Yinson will own a controlling stake in the joint venture, which will provide electric vehicle charging stations in Malaysia.
MHC Plantations BhdRM's net profit jumped 118.9% to RM 11.48 million for the third quarter ended September 30, 2021, from RM 5.24 million a year ago, thanks to improved profitability of its plantations and oil mills segments. Quarterly revenue increased 75.72% to a record 168 million RM, from 95.6 million RM previously.
Deleum Bhd was awarded two contract extensions from Petronas Carigali Sdn Bhd (PCSB) for the supply of smooth line equipment and services and the supply of gas valve (GLV) and chain equipment, accessories and services 'insertion. The value of the contracts will depend on the agreed rates and the work order issued by PCSB.
Shareholders of Ancom Bhd gave the green light for the company to take over all the assets and liabilities of Nylex (Malaysia) Bhd for RM 179.3 million (RM 1 per Nylex share) at the group's extraordinary general meeting on Tuesday. As Ancom currently holds a 50.3% stake in Nylex, the net amount payable to Nylex will be RM96.7 million, following the compensation agreement for the 49.7% stake it does not hold. not. The acquisition will be completed through a cash payment of RM 50 million and the issuance of 31.1 million new Ancom shares valued at RM 46.7 million (set at RM 1.50 per Ancom share).
Globetronics Technology BhdRM's net profit for the third quarter ended September 30, 2021 fell 9.8% to RM16.27 million from RM18.03 million a year earlier due to lower loading volumes of some customers and declining economies of scale. Quarterly revenue fell 15% to RM 55.66 million from RM 65.54 million.
Bursa Malaysia Bhd sold its remaining 75,250 shares of Class A common stock of CME Group Inc (formerly known as Chicago Mercantile Exchange Holdings Inc), for $ 16.37 million (RM 67.93 million). This came after the local exchange's previous sale of 50,000 shares for US $ 10.86 million and 65,000 shares for US $ 14.19 million, as reported on May 25 and October 22. Bursa Malaysia said the 75,250 shares were sold in two transactions on October 22 (30,000 shares). and on October 25 (45,250 shares) on the open market of the Nasdaq Stock Market.
Ajiya BhdRM's net profit fell 32.43% to RM 1.49 million for the third quarter ended August 31, 2021, from RM 2.21 million a year ago as revenue was affected by the restrictions movement control order implemented on June 1. 65.64% to 24.03 million RM, compared to 69.93 million RM in the same quarter of last year.
Mestron Holdings Bhd aims to win 30% of orders for a total of 1,661 telecommunications towers to be built as part of the first phase of the national digital network initiative (JENDELA). The steel pole maker said Sarawak alone would require the construction of 600 towers as part of the plan and Mestron should benefit from its strong track record in the state. Managing Director Por Teong Eng said that JENDELA's considerable progress will stimulate demand for the group's specialty pole products, such as tall masts and telecommunications monopolies, which are vital for the development of telecommunications infrastructure.
Sarawak Consolidated Industries Bhd (SCIB) said Bursa Malaysia Securities denied its request for an extension until Dec. 31 to release its annual report for the fiscal year ended June 30, 2021. The group appealed the decision to deny the Oct. 8 request. If the rejection of the request for an extension of time is maintained, trading in SCIB shares will be suspended from November 9.