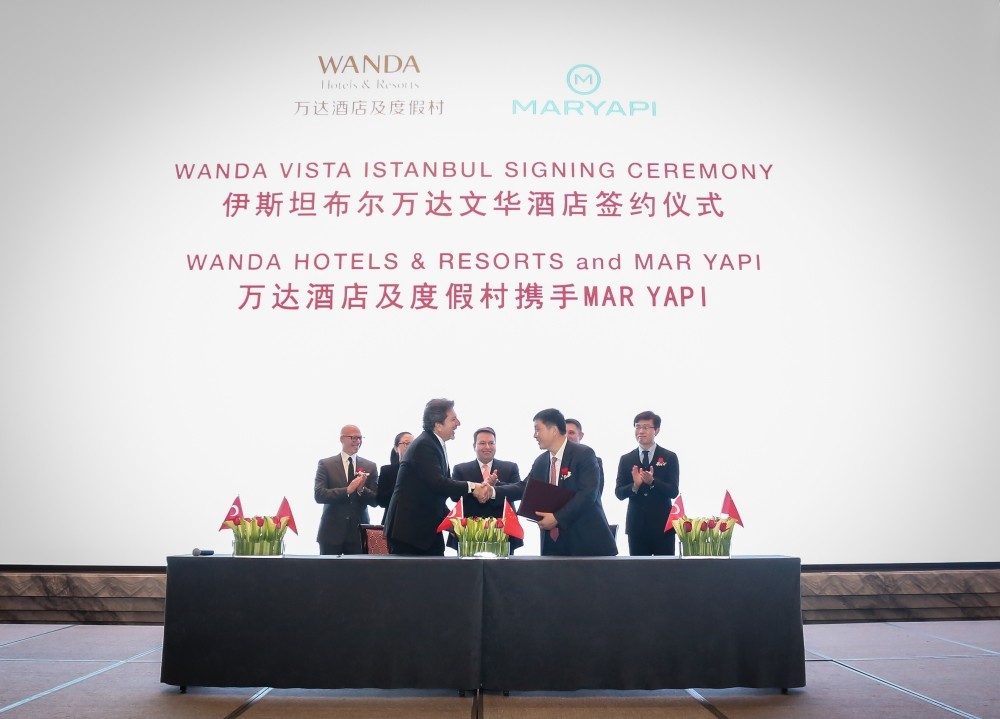 Chinese real estate giant Wanda to open first offshore hotel in Istanbul
A strategic business partnership agreement has been signed between Mar Yapı and Wanda Group, one of China's largest trading companies which also owns a chain of luxury hotels. The deal for Wanda Vista Istanbul, the Wanda Group's first offshore hotel to be built in Istanbul, will open in the city as part of strategic collaborations with Mar Yapı as part of its investments in Turkey, ranging from a variety of fields, including technology, tourism, finance and real estate. Ahead of the signing ceremony for the Wanda Vista Istanbul project in Shanghai, Mar Yapı Chairman Münir Özkök met with Wanda Group Chairman Wang Jianlin, China's richest man, at Wanda Group headquarters in Beijing.
During the meeting, Wanda and Mar Yapı agreed to collaborate in different fields outside of the tourism sector, also taking decisions to take action in e-commerce and other brands of the group.
Wanda Vista Istanbul, the first step in the commercial alliance between the two groups, will be operational in 2018 and will serve as a 150-room hotel, as well as undertake the operation of 300 residences in the hotel building.
Wanda to open its first offshore hotel in Istanbul
Speaking at the signing ceremony, Wanda Hotels & Resorts President Qian Jin announced the opening of his first foreign hotel in Istanbul under the Wanda Vista banner. Noting that Wanda Vista Istanbul will be Wanda Hotels & Resorts' first hotel brand in the global market, Jin said the hotel will be followed by openings in other world-class cities such as Chicago, Los Angeles, London, Sydney. and Gold Coast. Jin also said their partnership with Mar Yapı is a milestone in China's goals of becoming an international hotel management company around the world.
Wanda will continue its investments with other projects
Responding to questions from members of the Turkish press after the signing ceremony, Qian Jin said that around 120 million Chinese tourists travel abroad each year, 45 million of whom use Wanda agencies, adding that with this partnership, they want to show all of China that Turkey is a developed country that continues to develop.
Emphasizing that a great level of responsibility falls on the relevant institutions of the two countries in order to increase the number of tourists who can come to Turkey, Jin said: "Companies like Turkish Airlines [THY] are already doing their part in this matter. [THY] is one of the best airlines in the world. The opening of the new airport [Istanbul Third Airport] is also a big advantage for Istanbul. We believe that Turkey and Istanbul will become a big hub. "
Jin suggested that Wanda and Mar Yapı would also work together in other sectors, noting, "Our strategic cooperation includes more than one area. We discuss things Mar Yapı can do in China as well as what Wanda can do in Turkey. We are open to anything in this regard. "
Mar Yapı President Münir Özkök said they were happy to see Wanda Hotels & Resorts today by their side, referring to their goals of working with the best in the real estate industry nationally and internationally as well as in the development of the most qualified projects in Turkey.
Stating that this strategic cooperation will greatly contribute to the Turkish real estate sector and the international reputation of its brands, Özkök said that they aim to increase the value of their brand and the number of investments with strong international business partners as well as partnerships. national.
Emphasizing that they will focus on business activities in addition to the real estate and tourism sectors in the following periods, Özkök noted that the agreement will help increase mutual business and cultural relations, especially in tourism. , between the two countries.
Münir Özkök expressed his joy to be part of a partnership that will bring about the mutual interaction that began centuries ago thanks to the Chinese Silk Road and the Spice Routes which paved the way for future developments. Özkök also added that the preliminary application for Wanda Vista Istanbul has started to be collected from the Chinese.
"We will sell residences to the Chinese. We believe that Wanda Vista Istanbul will create a value of $ 150 million. After the hotel opens, a major advertising campaign will start in China. Turkey will become a destination for more Chinese tourists "said zkök. , adding: "We want to help Turkey to make a profit. We can consider opening up to the public in the future by increasing our hotel investments."
"This cooperation will pave the way for better opportunities"
Sabri Tunç Angılı, Consul General of Turkey in Shanghai, expressed his joy to attend the ceremony of the agreement, which will contribute to the development of cultural and trade relations between the two countries.
Pointing out that China, the world's second-largest economy, is also Turkey's second-largest trading partner, Angılı said that the Republic of Turkey, which will celebrate its 100th anniversary in 2023, supports all kinds of initiatives and trade relations in the part of its goal. to become one of the world's top 10 economies.
Highlighting the rapid development and diversification of economic cooperation between Turkey and China, Angılı said that the two main Chinese banks have started to operate in Turkey, while large Chinese companies such as Huawei and ZTE have invested in Turkey and whereas Turkish companies have also invested in and around Shanghai; namely, Beko, Aksa, Teklas and Çimtaş.
Emphasizing that the strategic partnership agreement between Wanda Group and Mar Yapı, two important companies from Turkey and China, is unique in its kind, Angılı said: "I am convinced that this will pave the way for new collaborations and better opportunities. I congratulate the two companies for their vision of working together. I believe that the same bright vision will shape the future of Turkish-Chinese relations.